Baby teethers are used to soothe babies' gums when their teeth start coming in, at around 3 to 7 months of age.
You'll definitely want to avoid any plastic teethers that contain BPA, PVC, or phthalates.
•BPA
BPA which is Bisphenol-A is a chemical present in plastics that mimics estrogen and disrupts the body's hormonal systems.
Pregnant women, babies and young children are susceptible to this chemical.
It's particularly harmful for pregnant women, babies, and young kids.
•PVC
PVC which is Polyvinyl chloride is a common type of plastic used for various purposes.
It is the third most common plastic in the world — and also the most toxic.
•Phthalates
Phthalates are chemicals added to plastics to make them soft and supple.
(PVC is actually hard and brittle so to make something like a squeezy toy requires the addition of phthalates.)
However, these group of compounds leach out as they cannot bond with plastics. They are known carcinogens and are definitely unhealthy for ingestion by anyone.
Silicone Teether Safe for Baby
Huizhou Melikey Silicone Product Co. Ltd is a professional manufacturer of silicone teethers products.
The material of our product is 100%BPA free food grade silicone. It is totallynon-toxic, and approved by FDA/ SGS/LFGB/CE. It can be easily cleaned with mild soap or water.
All of these silicone baby teethers:
Contain no toxic chemicals, only natural materials.

Are easy for baby to hold and use.

They're all excellent options that baby will love!
Our list of 4 wonderful teething toys.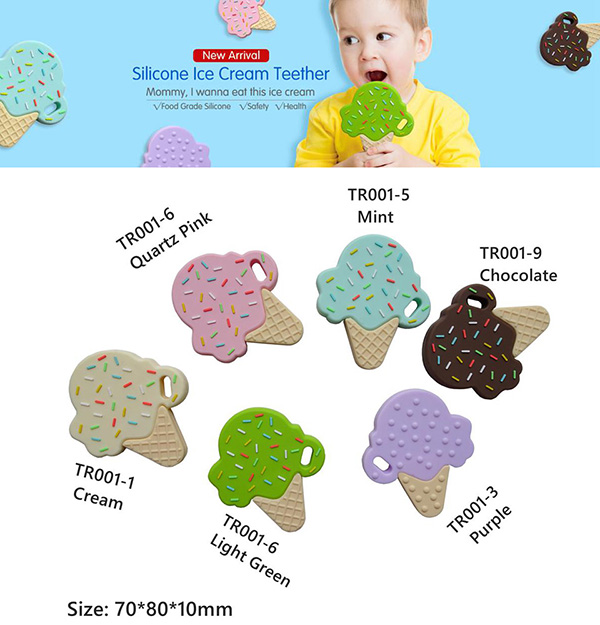 The new designed silicone ice cream teether is made from food grade silicone silicone. It somes with multi-colors—colorful dots on the ice cream teether surface. There are 6 colors for this ice cream teether: Cream, green, pink, purple,chocolate and mint. If you need a specific color, we can help to custom it for you.For any question, pls feel free to contact us: Info@melikeysilicone.com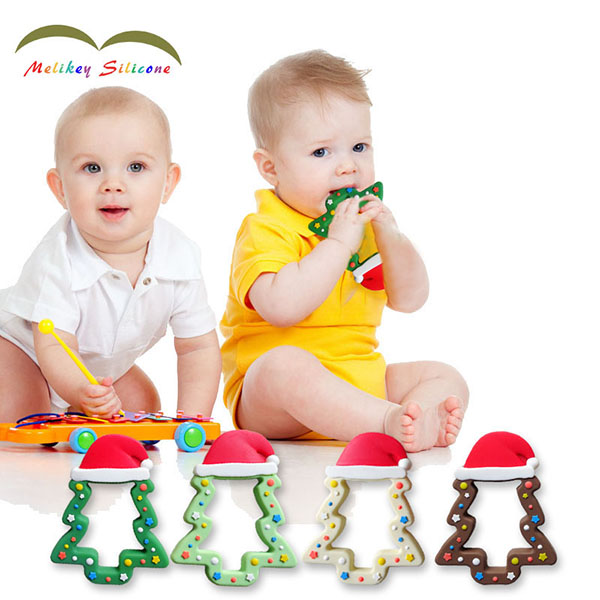 Silicone Xmas tree teether is especially designed for babies who love Xmas Holiday!The Red Santa hat, the sprinkle stars and balls, the forest green tree color, we tried hundreds of colors to find the final perfect match! Silicone Xmas tree teether, hope it brings your holiday season a bit surprise!For any question, pls feel free to contact us: Info@melikeysilicone.com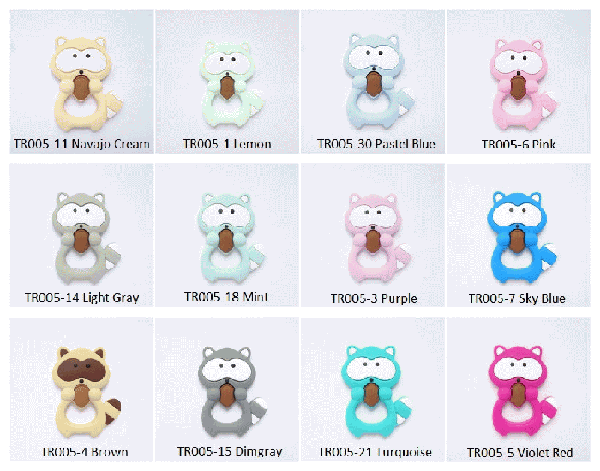 The Raccoon Teether is 4 colors for your choice. Demension is 95*71*11mm. There are 4 different colors on the Raccoon teether. The multi-colors make the teether cute and unique for baby teething.For any question, pls feel free to contact us: Info@melikeysilicone.com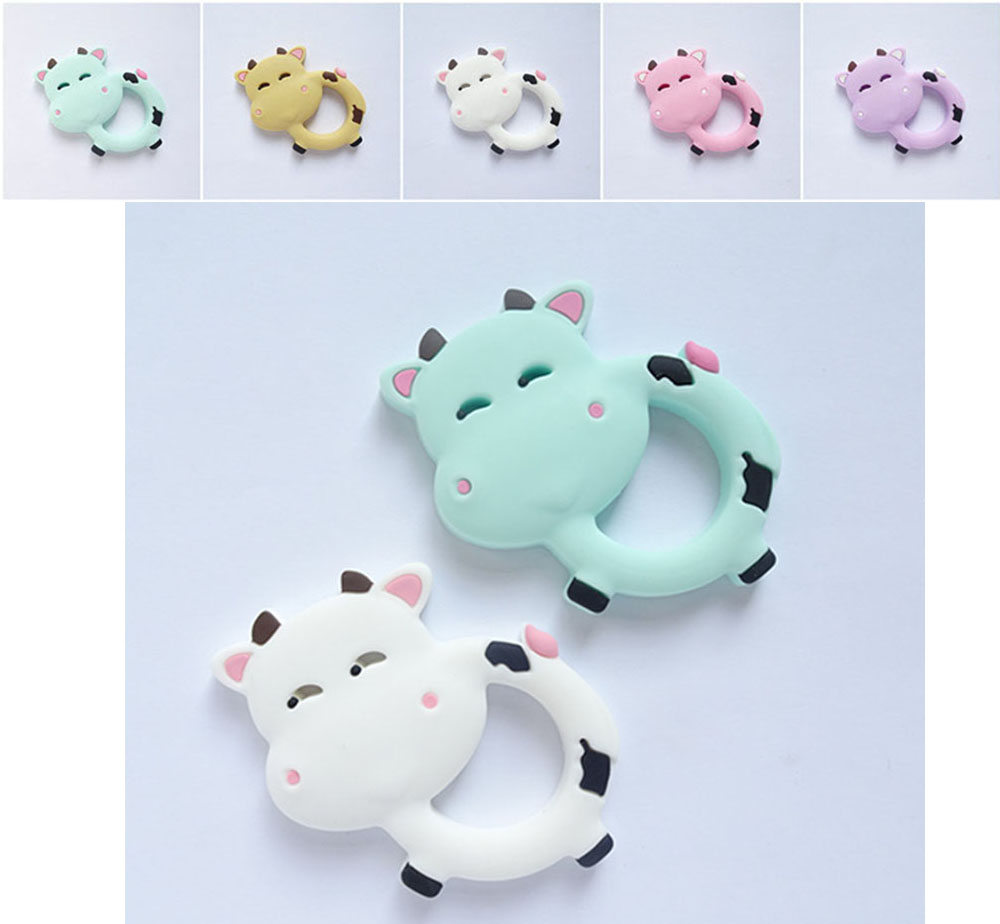 We finally get the silly cow teether to your attention. We have been working on this design for more than 3 months. After hundreds of times' changing and upgrading, it comes to you with this shape and color.
  The silly cow teether-how to expalin–Why it looks so stupid?? My little one smiles a lot everytime when he see this silly cow. He grabs it and put it into his month……We always trust babies' feelings. You can see all of our designs are tested by our own babies. If they like it, then "DO IT RIGHT NOW!" Babies are our final designers and boss lol….
  The silicone cow teether is 88*58*10mm in demension, it comes with 5 main colors: white, brown, pink, mint and purple. We also welcome custom color. Customers always like special colors, we don't know what color it is, but we can work it out for you if you know. ( Still remember the grey color raccoon? Yes this is the custom color we made for our customer, and it seems very hot)
Silicone Teether Wholesale
Custom order and color are welcome. We have over 10 years' experience in producing baby teething products, silicone baby teether, organic baby teethers, newborn teething toys, etc.For any question, pls feel free to contact us: Info@melikeysilicone.com
---
Post time: Apr-29-2019
---