Your child's process of self-feeding begins with the introduction of finger foods and gradually develops into the use of  baby spoons and forks. The first time you start spoon-feeding the baby is about 4 to 6 months, the baby can start to eat solid food. Your baby may need a little time to "learn" how to eat solid foods. During these months, you will still provide the usual breast milk or formula feeding. Therefore, please don't worry if your baby refuses certain foods or is not interested in it at first. It may take some time. 
You can pay attention to some common behaviors to let you know that your child is ready to try the spoon:
Babies usually turn their heads and hold them with their mouths to show that they are full. As they get older, babies and toddlers usually show the same behavior before meals. When a spoonful of food is delivered, they may lose their temper or appear disinterested. In some cases, toddlers may even grab the spoon when it is close to their mouth.
How do I introduce my baby to a spoon ?
Let your baby sit on your lap or in an upright baby seat. Seated babies (usually about 6 months) can be placed in a high chair with a safety belt.
Most babies' first-class foods are infant single-grain cereals with a slightly higher iron content mixed with breast milk or formula. Place the spoon near your baby's lips and let the baby smell and taste. Don't be surprised if the first spoon is rejected. Please wait a moment and try again. Most of the food provided to the baby at this age will end up on the baby's chin, bib or high chair. Again, this is just an introduction.
Can I give my 3 month old baby cereal ?
Unless your doctor instructs you, do not add cereals to baby bottles, as this may cause the baby to be overweight and will not help the baby learn how to eat solid foods. It is recommended that before the 4 to 6 months, infants only need breast milk or formula milk.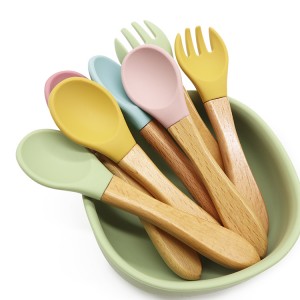 Very suitable for teething use-the soft mouth encourages weaning of the baby, our baby self-feeding spoon is also durable enough to chew and play. The PVC-free surface ensures that no harmful chemicals enter the baby's mouth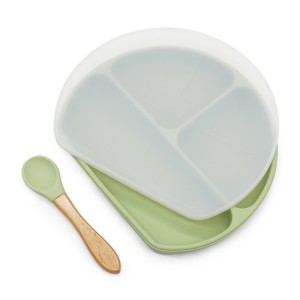 Free of BPA and toxins. Each spoon is made of food-grade silicone. The complete dishwasher can only be placed on the top shelf) – the natural wooden handle can only be hand-washed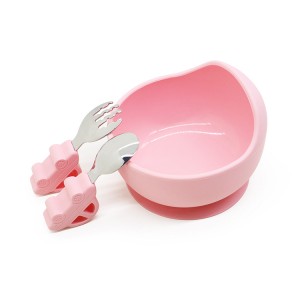 The size and shape of stainless steel fork and spoon head are suitable for young children. The concave head helps to keep the food on the fork or spoon and helps to promote self-feeding with solid food. The outer fork can be bent to help stab the food and keep the food on the fork. With curved, soft, and ergonomic non-slip handles, your child can easily grasp and learn to scoop.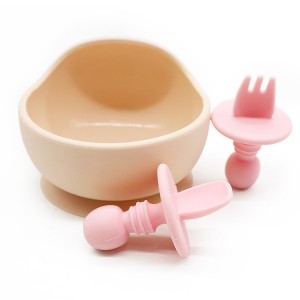 Independent feeding-silicone forks and spoons are soft, skin-friendly and not easy to fall off. It is very suitable for babies to learn to eat independently. There is no need to worry about your baby scratching his skin and eyes when using it, so parents can use it with confidence!
We offer more products and OEM service, welcome to send inquiry to us
---
Post time: Apr-07-2021
---